Los clásicos siempre vuelven, y tanta modernización y tantos inventos con los perdigones en el mundo de las ninfas, no se hasta que punto nos están beneficiando. Porque donde este una buena clásica, que se aparten los modernismos.
Los perdigones, están muy bien como moscas atractoras para las truchas, y esta claro que tienen un gran resultado y efectividad, pero todo cambia cuando las pintonas están hartas ya de ver tanto color y tantos brillos, así que materiales como el faisán, mezclado con liebre y algo de cobre son un arma letal.
Esto no es nada nuevo, ya que la "PHEASANT TAIL", ha sido una de las moscas mas conocidas por todo pescador a mosca, imitación de comprobado resultado y muy buena cuando las truchas están ya pinchadas o simplemente el instinto salvaje de las mismas las hace casi impescables.
_______________________________________________________
The classics always come back, so many inventions , modern flies and pellets in the world of nymphs, not to what extent we are benefiting. For where a good classical modernism that turn away.
The pellets are fine as attractors flies for trout, and it is clear that they have a great result and effectiveness, but everything changes when pintonas are fed already see so much color and so many highlights, so like pheasant, mixed with hare and some copper are a lethal weapon.
This is nothing new, as the "PHEASANT TAIL", has been one of the best known fly fisherman all flies. Imitation of proven results and very good when the trout are already punctured or just the wild instinct makes them almost impossible to capture.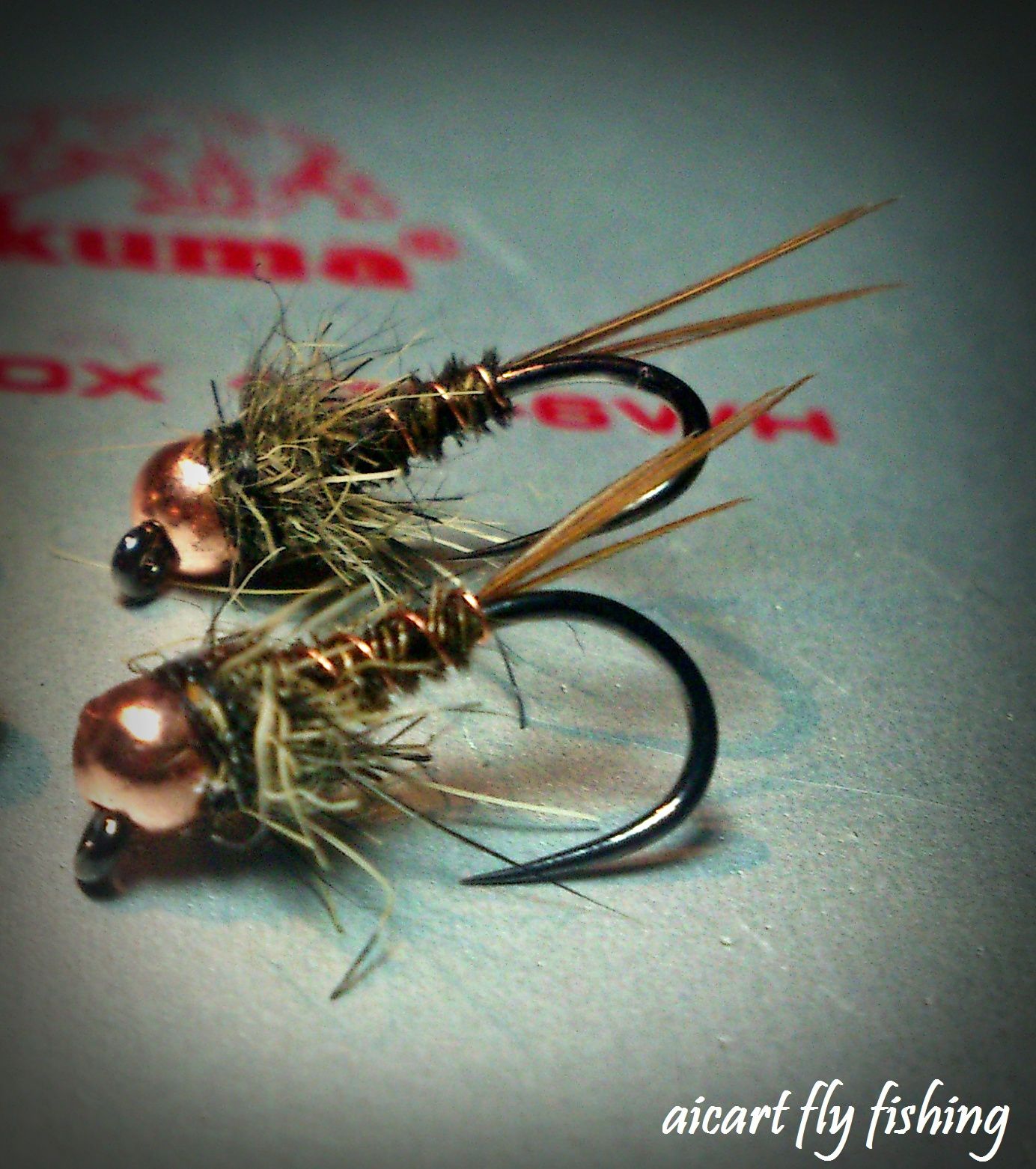 -Anzuelo / Hook: Hatch. 14.
-Bola / Ball: Bola de tungsteno plus, nº 2'8. / #2'8 Plus tungsten ball.
-Hilo Montaje / Tying thread: Uni thread,Grey 8/0.
-Cercos / Tail: 3 / 4 Fibras de cola de Faisán. / 3 or 4 Pheasant tail fibers.
-Cuerpo / Body: Enrollamos la 3 / 4 Fibras de cola de Faisán que hemos utilizado como cercos hacia adelante. /We have to roll the 3 or 4 Pheasant tail fibers we use to make the tail of the fly.
-Brinca / Ringed: Hilo de cobre. / Copper thread.
-Tórax / Thorax: Tira fina de lattex marrón. / Thin strip of brown lattex.
-Abdomen: Dubbing de Liebre Gris Oscuro / Dark Gray Hare Dubbing.
***********************************************************************************************************
Si estas interesado en esta o en alguna de las otras moscas que aparecen en el blog, puedes ponerte en contacto mediante:
FACEBOOK ---> Adrian Aicart Tena
----> Aicart Fly Fishng
EMAIL ---> adrianaicartena@gmail.com
___________________________________________________________________
If you are interested in this or either of the other flies that appear on the blog, you can contact with:
FACEBOOK --->Adrian Aicart Tena
----> Aicart Fly Fishng
EMAIL ---> adrianaicartena@gmail.com