Recientemente, ha llegado a mis manos el libro: "Pluma, Seda y Acero. Las Moscas del Manuscrito de Astorga." Libro que huele a historia y a tradición.
____________________________________
It has recently come into my hands the book: "Feather, Silk and Steel. Flies of the Manuscript of Astorga." Book that smells like history and tradition.
En este libro,se descifra un antiguo documento, para muchos uno de los mas importante de nuestro país acerca de la pesca con mosca, El Manuscrito de Astorga. Documento fechado en 1624, cuya información fue vetada por la desaparición de dicho documento.
Y hoy en día podemos saber de que hablaba y que moscas se describian en el gracias a este completo libro.
_____________________________________________
In this book, an ancient document is decrypted, which for many, is one of the most important in our country about fly fishing, The Manuscript of Astorga. Document dated 1624, which information was vetoed by the disappearance of the document.
And today we can know about what spoke and wich flies were described in this entire book.
En este libro, Jose Luís Gárcia González (Autor del libro), habla sobre todo aquello que escondía en sus paginas el Manuscrito de Astorga, como una larga lista de moscas leonesas.
___________________________________
In this book, Jose Luis Garcia Gonzalez (Author of the book), talks about everything hidden in its pages the Manuscript of Astorga, as a long list of Leon flies (Flies from León,SPAIN).
A Parte de ser interesante por saber aquellas moscas con las que pescaban hace unos 400 años, este libro contiene una gran cantidad de información acerca de los tan buenos materiales que tenemos en España para confeccionar imitaciones, utilizados a lo largo de la historia y que hasta hoy en día son indispensables para muchos de nosotros en nuestros montajes.
Por ejemplo, las sedas con las que formamos los cuerpos.
__________________________________________
A Part to be interesting to know the flies with which they fished about 400 years ago, this book contains a lot of information about such good materials we have in Spain for making imitations, used throughout history and up today are indispensable for many of us in our flies.
For example, silks with which we form the bodies.
Y también habla extensamente sobre los distintos tipos de gallos que hay y la gran variedad de plumas que nos ofrecen, con las que podemos crear las alas de nuestras moscas, e incluso también las patas.
___________________________________
And also talks extensively about the different types of roosters that there are and the great variety of feathers they offer us, with which we can create the wings of our flies, and even also the paws.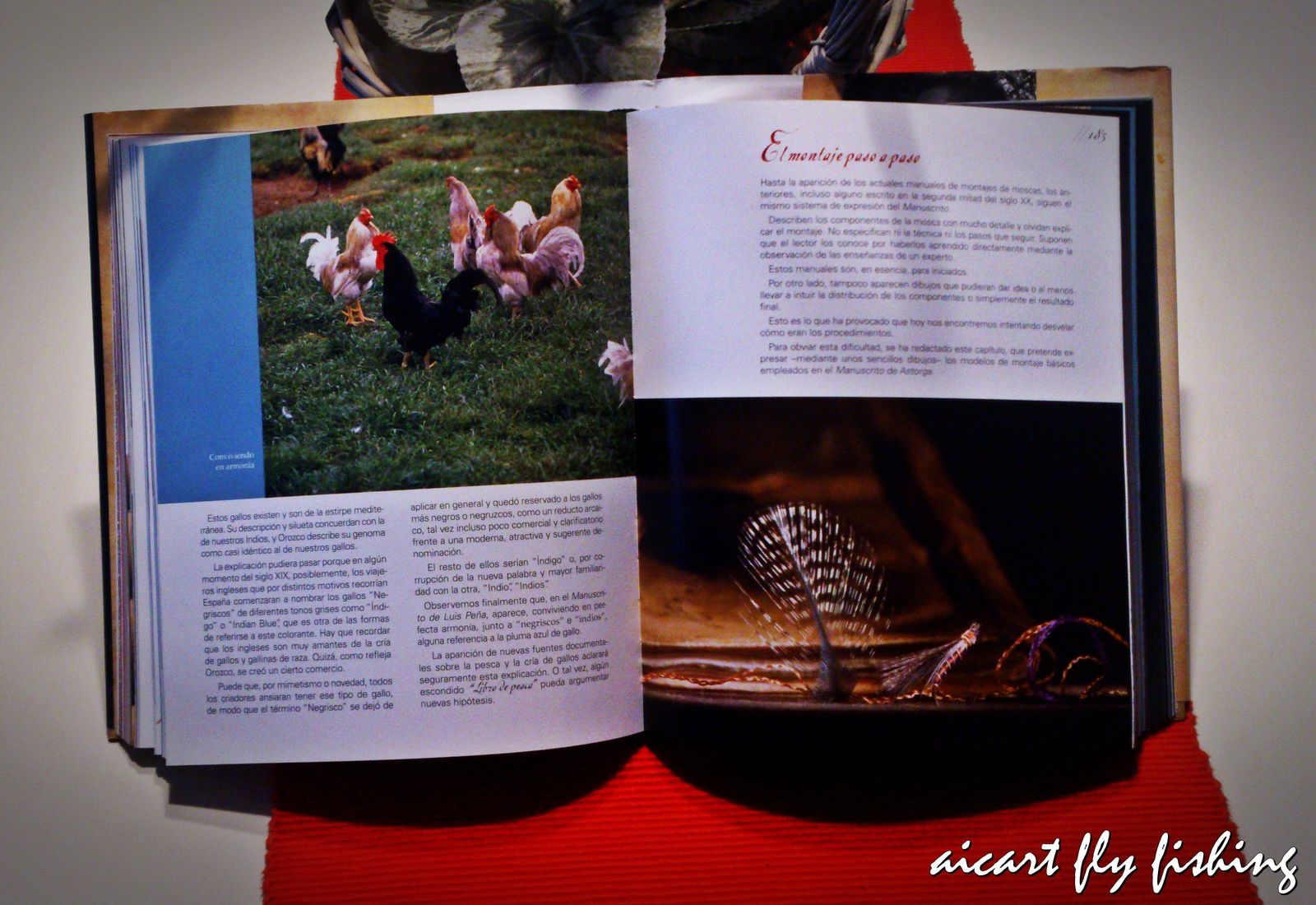 A primera vista y después de haber realizado una visión general, parece un libro muy completo e interesante.
Las imágenes e ilustraciones son de una muy buena calidad, cosa que hace una agradable lectura e interpretación.
Haremos una lectura detenida y sacándole el mayor jugo posible, y en acabar, realizare un resumen y una opinión personal por si a alguien de ustedes les interesa.
__________________________________
At first sight, and after performing an overview, it seems a very complete and interesting book.
Images and illustrations are of very good quality, which makes a pleasant reading and interpretation.
We will carefully read and knocking the best extraction and, in conclusion, I will summarize more or less what I had read and will make a personal opinion if anyone of you are interested.
Muchas gracias por su visita y nos vemos en la siguiente publicación.
aicartflyfishing®
_______________________________________
Thank you very much for your visit and see you in the following publication.
aicartflyfishing®